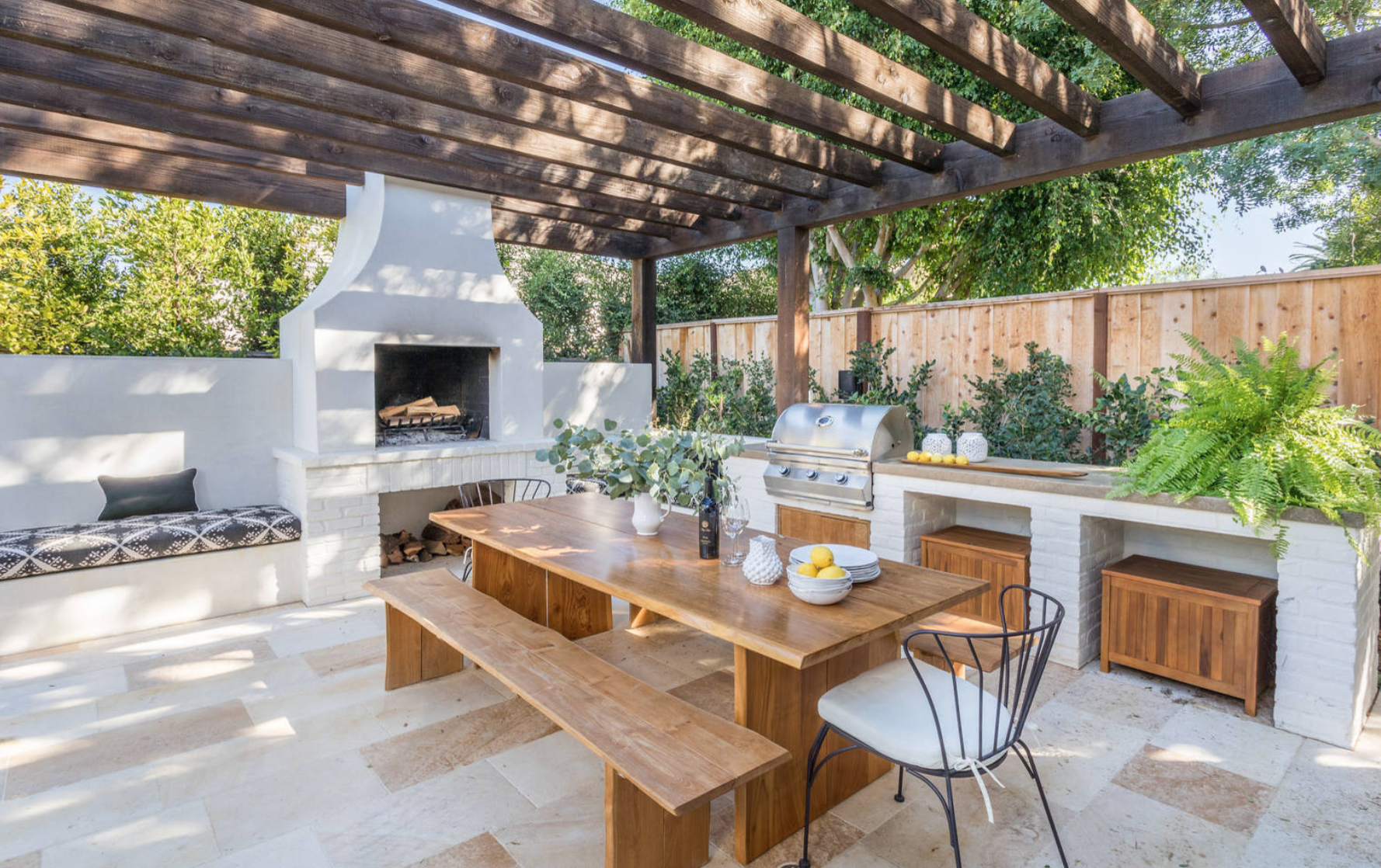 30 Dec

5 Outdoor Kitchen Ideas Perfect For Entertaining

Hosting outdoor barbeques and dinner parties is a great way to bring together friends and family while also taking advantage of the great outdoors. Dining in the open air makes guests feel more open and provides plenty of space for everyone to mingle.

Rather than going in and out of the house to bring out food and beverages, creating an outdoor kitchen allows you to stay with your guests and enjoy your party to the fullest. But how can you make an outdoor kitchen ideal for entertaining? Let's go over five great ideas for entertaining with an outdoor kitchen.
1. Patio Dining
No outdoor kitchen is complete without an area for your guests to sit and eat. Creating a patio with multiple tables and chairs is the perfect way to accommodate parties of all sizes. To elevate it to the next level, match your patio dining style to the style of your outdoor kitchen. Working with a modern kitchen set-up? Consider getting some cool modern furniture to complement the look of your cook space.
2. Add Exterior Mood Lighting
Evening dinner parties and get-togethers that will last into the night will need good lighting. Not only is lighting important for your guests to see where they're going in the dark, but the right lighting will keep guests calm and relaxed. Good lighting also ensures great photo opportunities, even after sundown!
When deciding on lighting for your outdoor space, string lights or other overhead lighting is ideal. These lights will also burn at a cooler temperature, so the lights won't be as harsh on the eyes.
3. Dining in Comfort With Entertainment
Planning to host the next Superbowl party? Installing a TV and good sound system outside is the perfect way to add a new touch to your outdoor kitchen. You may even choose to install shelves or cabinets and electrical hookups to bring your gaming systems outdoors. The opportunities here are endless!
Depending on the time of year and area you live in, you may also choose to install some sort of heating system in your outdoor kitchen. This way, your guests are comfortable even if the temperatures are chilly.
4. Add a Beverage Station and a Wet Bar
Sure outdoor kitchens can get by with a stove or grill and some counter space, but adding a beverage station or wet bar will elevate it to the next level. Guests can help themselves to a margarita bar or another cocktail station without having to go inside to get a new drink. It's a win-win for everyone!
5. Install an Outdoor Fireplace
An outdoor fireplace is a perfect way to utilize your outdoor kitchen throughout the entire year. Regardless of the outside temperatures, a fireplace is a great way to keep both you and your guests comfortable as you enjoy a meal outside. An outdoor fireplace also provides a cozy atmosphere for you to snuggle up to when you want to enjoy the outdoors and be bundled up in a blanket at the same time.