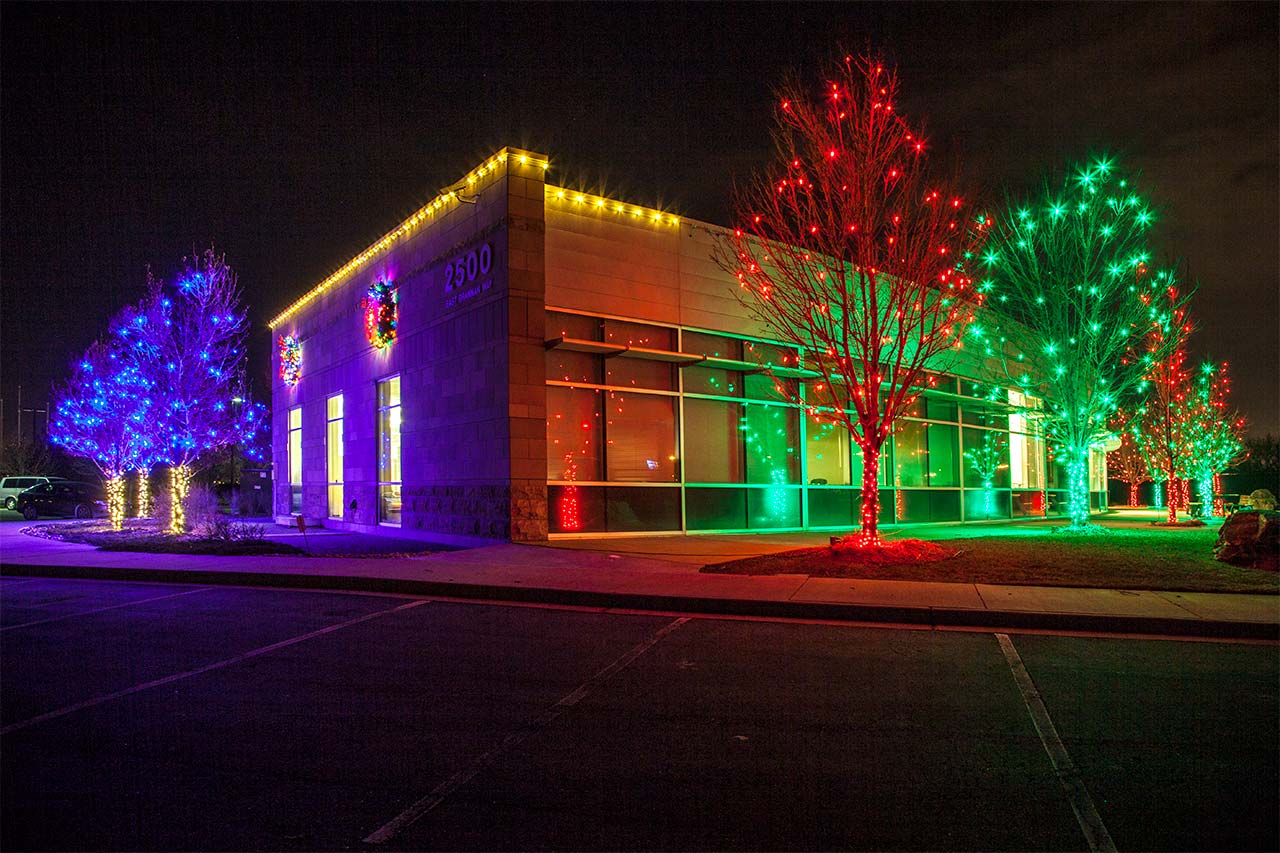 03 Nov

Holiday Light Displays for Any Business

As you drive through residential neighborhoods to get to your business during the holidays, you may notice how cheerful the light displays you see are. But, when you arrive at your building, it may feel like the opposite. Is there a way to extend that cheer to your place of business?

The answer to that is a simple… yes. Using creative holiday light displays is a surefire way to help your building stand out and quite possibly attract new customers to your business. Not only that, it can make the workday feel way more enjoyable too.

In this article, we'll discuss different types of holiday light displays to inspire you. We'll also give you a rundown of what StreamLine has to offer in terms of holiday light installation
Pathways
Decorating your pathway is a great way to make your business feel more inviting. Whether you choose to do this with holiday yard ornaments like snowflakes or candy canes, or you want to use twinkling lights, decorating your business pathway will instantly transform your front into a winter wonderland.
Roof Lining
Roof lining is a classic light installation tactic. Doing this will illuminate the front of your business from above, which will make your building feel much more inviting than it would without the lights. Depending on the type of lighting you choose, it may even make your business look like a gingerbread house.
Doors and Windows
Similar to the way roof lining illuminates your building, lining your doors and windows with lights will do the same. Make your business feel even more gingerbread-like by adding thick bulbs to the edges of your windows and doors. Not only that but putting lights around your windows can help showcase products you want your customers to know about if you're in the retail business.
Tree Trunk Decor
For anyone that loves the holidays, it's essential to use as much space as possible to spread that holiday cheer. If you have trees in front of your business, you have more space to work with than you may think. Wrapping your trees with lights or using other holiday decorations on the trunk is a great way to make your business stand out from others near it.
If you do utilize the trees in front of your building, make sure to do so safely as to not create a hazard for the humans and wildlife that come near it. Only use LED lights to avoid fire hazards and make sure all cords are out of reach of curious critters. Any cords used outdoors should also be winterized and safe for outdoor use.
StreamLine Services
StreamLine offers professional installation on all Christmas light displays. Using only LED lighting, we install, remove, and store your lights for you. Among your decoration choices are white or color lights, wreaths, bows, and other custom design options. We also offer second-story lighting, so you don't have to neglect the upper floor of your building and you don't have to risk your safety to illuminate the second floor.
If you're in need of professional services to "holiday-ify" your place of business, request a quote with StreamLine today.