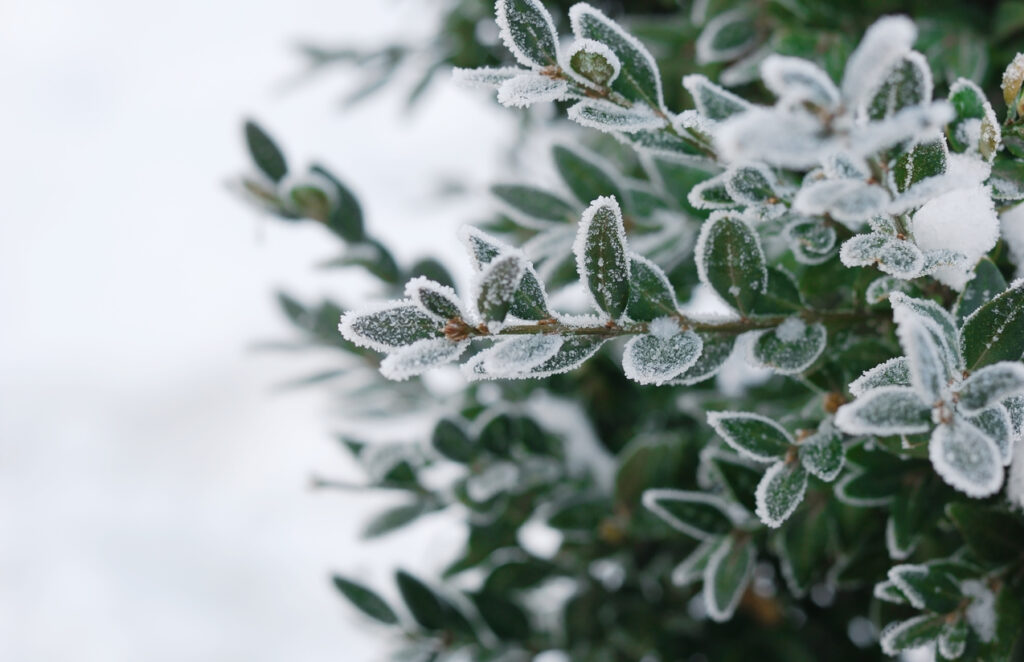 02 Feb

Protecting Trees and Shrubs from Winter Frost

Cold winters are the bane of plants. When temperatures drop below freezing, plants lose water through leaves and needles, which causes them to die. To keep your trees healthy again next summer, you need to know how to protect them.

Fortunately, there are many different tips you can implement right now. So try these tips for protecting your trees and shrubs from winter frost.
Tree Wraps
Tree wrapping is a highly-effective method that assists the trunks in maintaining warmth. You can use any number of materials to achieve this, from thick towels to cardboard. The goal is to wrap the trunk of your trees in the material.
You want to continue wrapping the trunk until your wrapping touches the first branches. And to ensure that your wrapping stays securely in place, use heavy-duty tape to tie everything together. You can also use a felt material or various kinds of insulation to help keep your trees warm and combat the effects of frost.
Take Your Potted Plant Indoors
If you live in an area where it experiences frost, bringing potted plants inside is the best way to protect them. But it's not just during the winter months when you have to worry about your plants. There are other seasons that can be difficult for your plants, like early spring.
When you bring them inside before the frost, be sure to do so around dusk. Hanging baskets are an ideal place to transfer your potted plants. Ideally, you want your plant to be in an environment with a temperature range of 45°F to 75°F.
You also want an environment that has bright light but not too much sun exposure during the day so that they don't dry out too quickly. These are all things that can be accommodated indoors.
Water in the Afternoon
In the wintertime, frost can damage your plants and trees. In order to avoid this, water your plants in the afternoon so that they have plenty of time to soak up water before nightfall.
To help keep your plants alive through winter, you can also create a 'halo' around your plant by planting taller plants around it. This, combined with a stringent watering cycle, can help your plants fight the effects of frost.
Keep in mind that when you water your plants, you want to make sure that the water penetrates about a foot or more deep. This will ensure that the water reaches the roots of the plants.
Don't Forget to Mulch
Mulching gardens with leaves or compost and covering them with a row cover will also work to protect against cold winds and frost. The mulch acts as natural insulation to help keep your trees and shrubs safe from winter weather.
Apply a Cloche
This bell-shaped protective cover will give your shrubs the protection they need to stay safe and healthy. Often made from glass or plastic, cloches are ideal for your smaller plants, allowing them to stay warm in the cold winter months.